ROSIN EXTRACTION FOR PROFESSIONALS
Built for professional extraction technicians, the Rosin TRP has the ability to press large rosin batches at the lowest temperatures to preserve rich, valuable terpenes. Eliminating the need for a higher temperature reduces the chance of degrading any cannabinoids.
Easy to Use Low Temp Rosin Press
MAINTAIN TERPENES
Maintain valuable terpene content by pressing rosin at higher pressure and lower temperatures.
LARGE PLATEN SIZE
6×10 IN / 15x25 CM platens offer more space to provide the most versatility and size for hemp and cannabis flower, bubble, and kief.
MAXIMUM VERSATILITY
Customize your rosin press for your application by selecting the perfect pump for your needs.  Combine your press with a Manual, Air Over Hydraulic, or Electric Hydraulic Pump (sold separately).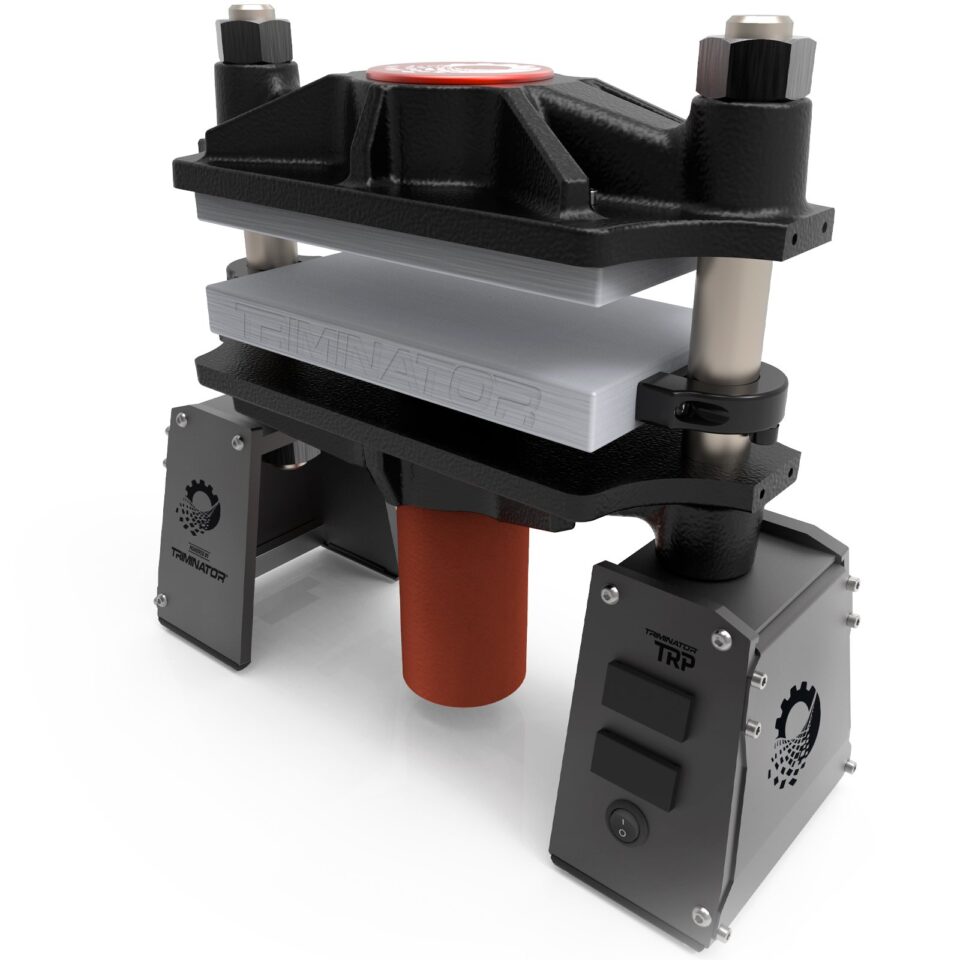 INDUSTRY LEADING TECHNOLOGY
POWER FRAME™
Hundreds of finite element analysis simulations were conducted while designing the frame to be capable of withstanding up to 25 tons of pressure.
TEMPERATURE PRECISION
Individual PID temperature control allows you to set the exact temperature preference for each platen for precise, repeatable, performance.
BVA Hydraulic Cylinder
Every press comes with a 25 Ton, BVA cylinder for the highest level of performance and reliability, squeeze after squeeze.
Height
17 IN / 43 CM
—
Width
16 IN / 41 CM
—
Length
11 IN / 27 CM
—
Weight
120 LBS / 54 KG
—
Power Req
120 V, 20 A
—
Drip Tech
No
—
Platen Size
6 IN X 10 IN / 15 CM X 25 CM
LEARN FROM OUR ROSIN EDUCATION TEAM

A low-temperature rosin press is useful in the cannabis industry because it allows for the extraction of high-quality concentrates without degrading the delicate compounds and flavors found in the plant. Solventless rosin is a concentrate made by applying heat and pressure to cannabis buds, kief, or hash.
A low-temperature rosin press typically uses temperatures ranging from 160°F to 220°F (71°C to 104°C) to extract the cannabinoids and terpenes from the plant material. By using lower temperatures, the risk of damaging the terpenes and other delicate compounds is minimized, resulting in a more flavorful and aromatic, high-quality product.
This type of rosin press is often preferred by consumers and producers alike because they do not require the use of solvents or other chemicals for extraction. This means that the resulting rosin is considered to be a more natural and pure form of cannabis concentrate, free from residual solvents or other contaminants.
The perfect temperature depends on a few different factors, including the type of material being pressed, the desired yield, and the personal preferences of the user.
A perfect temp activates cannabinoids and terpenes allowing for effective extraction, but low enough to avoid damaging the delicate compounds. The exact temperature may need to be adjusted slightly based on the specific strain or type of material being pressed, as some strains may require slightly higher or lower temperatures to achieve high quality rosin.
Triminator's Rosin TRP comes with temperature control options, allowing the user to adjust the temp to the desired setting. This can be helpful for achieving consistent, repeatable results and for experimenting with different temperatures to find the perfect setting for a particular strain or material.
There are a few different types of pumps that can pair with the TRP Rosin Press. You can choose a manual hand pump or an air hydraulic or electric hydraulic pump to pair with the press. The type of pump you choose depends on how you will be using the machine.
Manual pumps provide a better feel and modulation with the press, but they typically require more effort on the operators part. An air hydraulic pump delivers more modulation and speed, but requires an external air compressor.